Convert RAW images shot using a Canon EOS camera to JPEG or TIFF format
Introduction
RAW Converter is a free program that allows you to convert RAW (CR2 and CRW) images shot using your Canon EOS camera to JPG or TIFF formats. It allows batch conversion and contains the absolute minimal settings. Just drag and drop your photos, set the output type and folder and the Start button. It supports all Canon EOS camera models to date.
Highlights
Free
Minimal settings
Easy to use and fool proof
Supports CR2 and CRW files as the input
Supports JPEG (*.jpg) and TIFF (*.tif) formats as the output
Batch conversion
Supported all Windows versions higher than (including) Windows 7 (32-bit and 64-bit)
Supports all Canon EOS camera models to date (see the list below for details)
---
---
Supported Canon EOS Camera Models:
Currently following models are supported. Any model not listed here may or may not be supported by this program:
EOS-1D X, EOS-1Ds Mark III, EOS-1D Mark IV, EOS-1D Mark III, EOS 5D Mark III, EOS 5D Mark II, EOS 6D, EOS 7D, EOS 60Da, EOS 60D, EOS 50D, EOS 40D, EOS 650D, EOS 600D, EOS 550D, EOS 500D, EOS 450D, EOS 1100D, EOS 1000D, EOS M, EOS 7D Mark II, EOS-1D C, EOS 700D, EOS 70D, EOS 1200D, EOS 80D, EOS 1300D, EOS M10, EOS 5DS, EOS 5DS R, EOS 760D, EOS 750D, EOS M3, EOS M2, EOS 100D, EOS-1D X Mark II
How to Use
RAW Converter program splits all tasks into simple screens so there is really nothing more than:
Add your RAW images (You can drag and drop them into RAW Converter)
Set output format (You have the option to select JPG or TIF. You can also set the quality level if you choose JPG)
Set the output folder (This must be an existing folder.)
Hit the Start button
See the screenshots below for more information: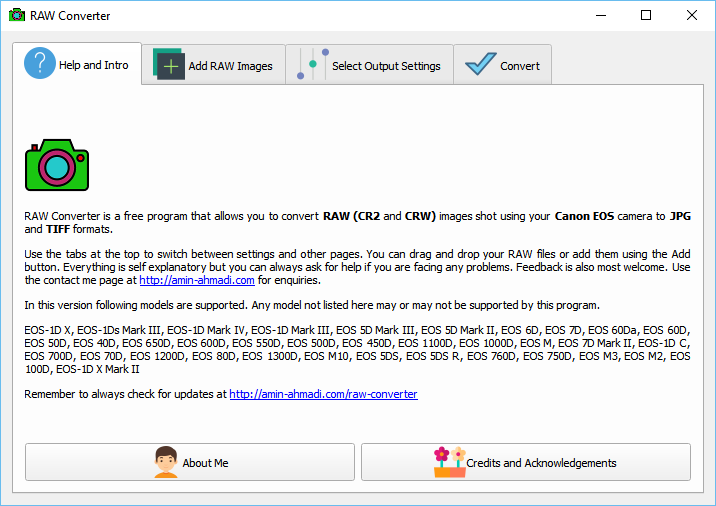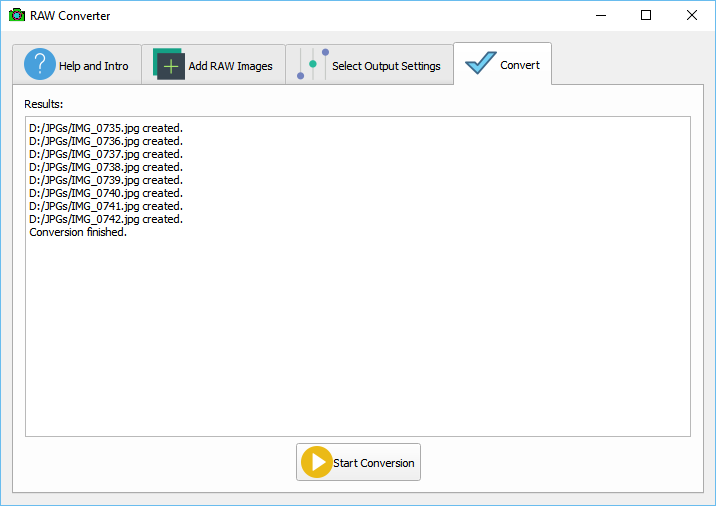 ---
---
Credits
RAW Converter uses Qt Framework for its user interface.
Special thanks to Canon for their developer program and EOS SDK which is used in RAW Converter.
Icons from Flaticon are used in this free program.
Download
Use the following button to download and install RAW Converter on your computer.

Help and Support
You can always use the Contact Me page to send me your questions and suggestions or if you find any problems in RAW Converter.
For now RAW Converter will only support Canon EOS camera models so it may or may not support other camera models in the future releases.
---
---